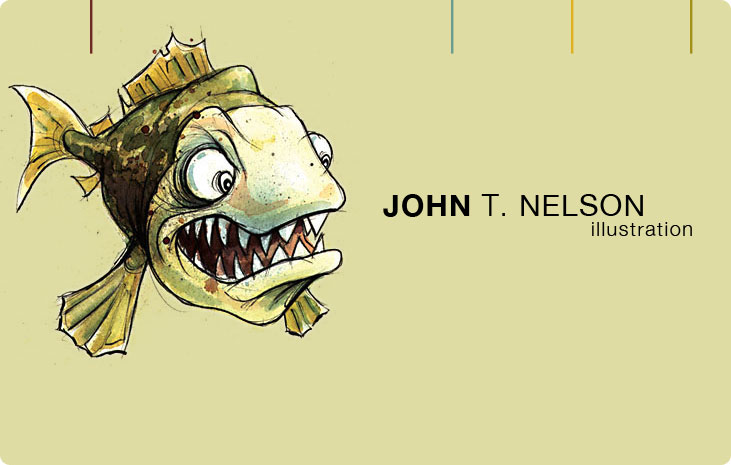 Working with an Illustrator
John is an Atlanta-based illustrator who has created custom visual solutions for advertising, corporate, and editorial clients locally and nationally since 1994. His work is used frequently as conceptual presentation art, editorial art, online, direct mail and collateral pieces, and even on the side of an RV. Whether you have a fully realized concept or just scribbles on a cocktail napkin (or less), John can help you communicate your ideas to your target audience. Working with an illustrator Whether you're working with John (or another illustrator) for the first time, or the first time in a long time, here are some tips for what to expect and how an environment can be created that will allow your project the very best opportunity to succeed beyond your expectations. These tips are general in nature and represent the work process of a typical assignment. Many projects have unique dynamics and circumstances, however, that commonly result in variations of the described workflow process. In other words, your mileage may vary.
Just as with any other professional service, the earlier an illustrator is brought into the project the more value he/she is likely to be able to contribute. There are times this is not possible, of course, but even alerting him/her ahead of time that a rush job is coming their way may allow them just enough prep/scheduling time to help alleviate some of the inevitable stress that a tight deadline can inflict on all involved. It can also enable you enough time to locate another illustrator in the event your first choice simply isn't available. Better for you to know before noon rather than after 6 p.m. that your illustrator of choice will not be able to clear his/her schedule in order to help you put together that 9 a.m. presentation.
The creative fee for an illustration is typically influenced by a number of factors including, but certainly not limited to, client usage (limited vs. extensive), time to complete (the deadline), color vs. black & white, and reproduction size. In some cases the illustrator may find it more appropriate to charge you an hourly rate for the work as opposed to an all-encompassing project fee. However the fees are structured, it's important that the client and the illustrator have a clear understanding of the goal(s) of the project and how the client envisions the illustrator helping to achieve the goal(s). The scope of the work should be spelled out in a signed agreement in advance of the commencement of any work (i.e. before the first pencil is sharpened)
It is fairly common for a non-refundable deposit (25-50%) to be required before commencement of any work by the illustrator. * Once fees and delivery timelines have been negotiated, it's time to hit the drawing board. Typically there are up to two rounds to what is called the sketch stage. The first round might consist of several (3-5) thumbnail sketches that are created for the client to view and choose from. One sketch (or parts of several) is chosen for the illustrator to take to a final sketch stage. Once this final sketch is approved the illustrator can begin working on final art. It's important that any and all changes be made during the sketch stage as additional fees (often in the form of the illustrator's hourly rate) are typically charged for changes to final art that are not the fault of the illustrator. Pencil erases a whole lot easier than paint.
Delivery of final art occurs on or before a previously agreed upon date. Typical mode of delivery is via e-mail or upload to FTP site in a file format that the client requests. In some cases delivery can be the physical art itself, but unless ownership of the final art has been negotiated in advance the final art is then returned to the illustrator usually within 30 days. Ownership of the final art and all preliminary sketches is retained by the illustrator unless otherwise negotiated. * Final payment (less any deposit) is also due upon delivery of final art.
Additional use and re-use of the art can be negotiated for future use usually at a discounted fee since the illustration has already been created. Sometimes additional fees are paid simply to prevent anyone else (i.e. a competitor) from buying usage of the same illustration. And that is a snapshot of a typical illustration assignment. Give John a call and let's get started!